NEWS
CCAA Canada Annual Brunch
Our annual Brunch will be held on May 1st at the Hilton Garden Inn. Please see flyer for details.
---
New Principal for Cornwall College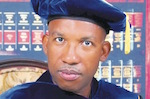 Dr. Lennox Rowe has been appointed the new Principal of Cornwall College.
Click this link to read an Article from The Jamaica Observer on Dr. Lennox Rowe.
---
Cornwall College goes solar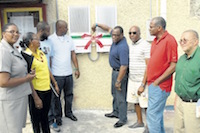 The first phase of the Solar Project was successfully completed. This phase covered the administrative building but more importantly, it will give us vital data to assess the practical validity of the project. Our very own (CCOBA Canada) Charles Gordon was present to cut the ribbon for the official launch of the Solar Project. Once again, a big thank you to every one that donated and/or supported the project. However, the job is not done so we will continue to push on to meet our ultimate goal.
Original news was covered in the Jamaica Observer and can be viewed here
---
New Years Message from the President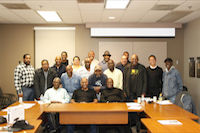 Fellow Cornwallian and Friends, This time of year, a lot of people look back over the past twelve months and contemplate the big moments of their life. "Where did I go wrong"? "What did I do right"? What could I have done better? I could spend some time with you today looking back at 2012 – it was an incredibly eventful year. On this New Years Day, I want to look with you towards the future. The New Year is an appropriate time to reawaken our desire for a better future, for new beginnings, and for a world that could afford us the achievement of our dreams. There are lots of things happening at Cornwall for 2013. We will see the start of the pilot of the Solar Project - giving us a chance to assess the direction we are going with our major expenditure. This could also be the year that Cornwall become a Trust School - the last of the Traditional High schools to achieve this distinction. These two activities will define Cornwall for the future and will require lots of hard work at the school, in Montego Bay and at all alumni associations, we will need your help to be successful, I will need your help to do my part. I look forward to the coming year with eagerness and trepidation knowing that we are entering a new era at the school and knowing how important it is for us to get it right Let us all pray for success that only God can give. And let us live as true Cornwallian. Then 2013 will be the year for Cornwall.
HAPPY 2013 to one and all
CCOBA Canada Annual General Meeting (AGM)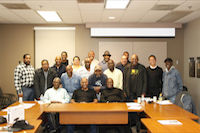 AGM is this Sunday, November 11, 2012. The AGM is a critical part of our mandate as we elect the people that will guide the association over the next year. It will be held at the Recreation Room of Toronto Police Services, 42 Division, 242 Milner Ave, Scarborough 3:00 – 6:00 p.m.
---
MoBay doctor Barry Dixon succumbs after gun attack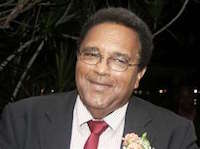 Condolences to the family of Cornwallian Dr Barry Dixon. Dr. Dixon was killed by gunmen on September 01, 2012.
Extract from the Western Mirror:
WESTERN BUREAU: Renowned obstetric gynaecologist Dr Barry Dixon has succumbed to injuries he sustained after he was shot by gunmen at his Spring Gardens home in St James this morning.
The former Senior Medical Officer of the Cornwall Regional Hospital who served in that post for some 20 years, was reportedly shot around 1:00am. Doctors had declared that his condition was very critical as they tried to save his life at the Cornwall Regional Hospital throughout the night.
Dixon operated the Barnett Clinic in Montego Bay.
---
Congratulations to Dr Conny Campbell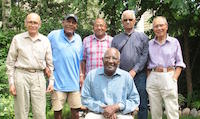 Congratulations to Dr Conny Campbell who was awarded the QUEEN'S GOLDEN JUBILEE MEDAL for accomplishments in Science. Conny shared the celebration with some Cornwall Old Boys. Thanks to Mr. Jolly for sharing the pictures and hosting the event.
---
CCOBA Walk A Thon
Walk A THON on July 08, 2012 (same day as the Family Fun day) and we need your full support as we try to make this event a success. Proceed from this event will go towards the Solar Project. If you wish to contribute to the walk a thon please let me know. All donations over $20.00 will qualify for tax receipt if a cheque payable to AJAA is used to make the donation.
---
Memorial Service for Trevor Irving
The Memorial Service for Trevor Irving will take place on Saturday May 26, 2012 @ 12:00 (noon) at the All Nations Full Gospel Church, 4401 Steeles Ave W, Toronto, ON M3N 2S4.
There will also be a get together on Friday evening May 25, at Rosa at 7171 Torbram.
Trevor was a teacher at Cornwall College and a very active member of CCOBA Canada. We will truly miss his spirited discussions and his very helpful and caring approach.
GOD BLESS YOU TREVOR.....REST IN PEACE
---
Trevor Iving has passed away
Trevor Irving passed away yesterday May 06, 2012. He was a long standing member of the association and worked tirelessly on the executive for many years. Information regarding funeral arrangements will be released as soon as they are made available. Please keep the family in your prayers.
---
CCOBA Annual Brunch 2012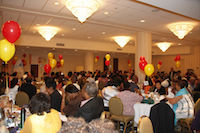 Our Annual Brunch on Sunday May 06, 2012 was a huge success. We (the CCOBA team) would like to thank everyone for their support and we once again apologise for the insufficient spacing. The turnout has grown over the years and therefore the selected room appeared to be somewhat crowded. We have taken a note of this and will make the necessary changes in our preparations for future events. We thank you for your understanding and we hope that you were entertained and did enjoy the evening.
---